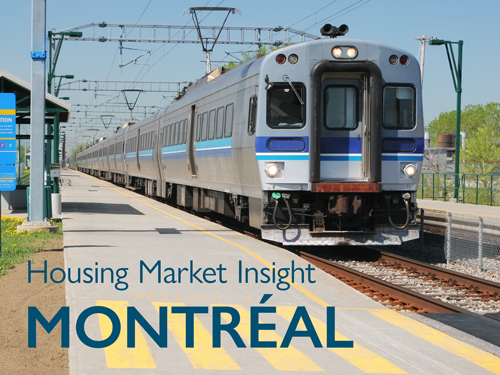 In Montréal, young households tend to save when they leave the city to buy a single-family home in the suburbs. This is true even when the cost of commuting to work is included.
Drive until you qualify: a response to rising home prices
The expression "drive until you qualify" has become popular in recent years. It refers to a response households have had to rising home prices. Because of rising prices, many households can't afford to buy homes in the urban, central sectors of their cities. Households therefore drive further and further into the suburbs until they find housing they can afford (and a mortgage they can qualify for).
Our latest Housing Market Insight (HMI)for Montréal explores whether households who leave the city to buy homes in the suburbs really save money. We also looked, for the same reason, at households leaving suburban zones to more outlying sectors. A home in the suburbs is generally less expensive than a similar home in the city. However, living in the suburbs can mean increased commute times and costs. And longer, more expensive commutes can offset the savings from buying a home in the suburbs.
Suburban homes are less expensive, but total savings vary
For this HMI, we looked only at households aged 25 to 44 who bought a single-family home in 2016. This age group and housing type account for a large part of the migration observed in the Montréal region area every year. Some findings:
Every year, thousands of Montréal households move to the suburbs in order to buy a single-family home. Certain suburban zones, such as Laval and the Longueuil Agglomeration, also lose households to more outlying sectors. Some of these households continue to work in the geographic sector where they used to live, thereby increasing their commuting cost and time.
Savings from buying a single-family home varied depending on the sector. Households who left the City of Montréal for the South Shore and Laval, for example, saved around $485 in monthly mortgage payments. Those who moved to the North Shore, meanwhile, saved more: $650 monthly.
It was on the North Shore where adding commuting costs to mortgage payments had the greatest impact on savings. Even with commuting costs added, though, newly suburban households still saved money. For those who left Montréal for the North Shore, adding commuting costs decreased monthly savings from around $650 to $380. For moves within the suburbs, the results were more mixed.
The single-family homes bought by households who move to the suburbs or more outlying sectors of the metropolitan area were also often larger and newer.
Newly suburban households would have to place a high value on the additional time they spend commuting before this time would offset mortgage savings. Those who left Montréal for Laval or the North Shore, for example, would need to value their additional commute time at around $37 hourly. By comparison, the average hourly wages in the Montréal CMA was hovering around $23 and $28 in 2016.
Migration likely to continue if prices in the city keep rising
If single-family home prices keep rising faster on the Island of Montréal than in the suburbs, households will keep moving to the suburbs. In fact, such moves could become even more financially interesting as more efficient public transportation and technologies that promote working from home continue to develop.