Our Summary of the Corporate Plan presents our priorities, initiatives, key performance measures and financial plan for the next 5 years.
We are accountable to Parliament through the Minister for CMHC, currently the Minister of Housing and Diversity and Inclusion. We report on progress against our plan though our quarterly financial reports and our annual reports.
2023 – 2027 Summary of the Corporate Plan
At CMHC, we are driven by one goal: housing affordability for all.
The 2023 – 2027 Summary of the Corporate Plan provides an overview of our strategy and outlines our path ahead to achieve 3 outcomes:
People in core housing need have equitable and reliable access to housing that is secure and affordable.
Canada has the number of homes and mix of housing options to serve diverse needs.
Canada's housing system supports sustainability and stability.
In recent decades, Canada's housing landscape has been shaped by many factors. The plan highlights housing in Canada and where we are now.
It also describes the steps we are taking to address the issues that matter most to people in Canada, such as diversity, inclusion, anti-racism and equity, reconciliation, and climate change.
We at CMHC are making it a priority to use our unique position and influence to make this happen. In doing so, we will progress towards our aspiration and the goal of housing affordability for all people living in Canada.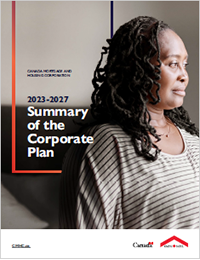 Read our Plan and learn more about our Strategy
Housing affordability is the reason CMHC exists. It is a critical thread in a strong social fabric and integral to Canada's economic stability and wellbeing.
Previous Summaries