Residential Mortgage Industry Report
PDF - Publication
The Residential Mortgage Industry report is an annual, economic analysis of the residential mortgage industry in Canada. This report:
provides a whole market view from origination to funding, covering insured and uninsured mortgages from all lender types
consolidates information from a variety of sources to provide further insights into the evolving mortgage landscape
provides insight to a number of emerging trends in the Canadian residential mortgage industry
is complemented by a quarterly dashboard that provides updated data and highlights of market trends
Explore the Data
The Residential Mortgage Industry Data Dashboard is a digital interactive companion to the Residential Mortgage Industry Report. Explore the data tables and an interactive dashboard to discover industry insights relevant to you.
Author:

CMHC

Document Type:

PDF

Date Published:

November 9, 2023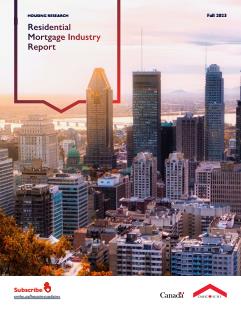 Was this page relevant to your needs?