Housing Shortages in Canada: Solving the Affordability Crisis
PDF - Report
We're in a housing crisis. This report looks at the overall affordability for the entire housing system in Canada. The report has taken steps to estimate how much additional housing supply is required — beyond current trends — to restore housing affordability by 2030.
Key Highlights
We project that if current rates of new construction continue, the housing stock will increase to close to 19 million housing units by 2030. To restore affordability, we project Canada will need an additional 3.5 million units.
Two-thirds of the 3.5 million housing unit gap is in Ontario and British Columbia where housing markets are least affordable.
Additional supply would also be needed in Quebec, a province once considered affordable. It has seen a marked decline in affordability over the last few years.
Other provinces remain largely affordable for a household with the average level of disposable income. However, challenges remain for low-income households in accessing housing that is affordable across Canada.
NOTE: This report looks at the problem caused by the lack of supply but doesn't address all the issues that impact housing affordability. Further analysis will be required to build our understanding of these issues.
Author:

CMHC

Document Type:

PDF

Date Published:

June 23, 2022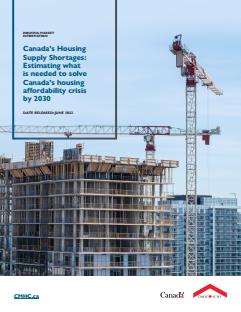 Was this page relevant to your needs?