Transcript
(Music fades in)
(Text on tangerine coloured screen: We exist…)
00:04
(Text on teal coloured screen: for one…)
00:07
(Text on brick coloured screen: single…)
00:10
(Text on sea blue coloured screen: reason…)
00:14
(Visual: The video transitions between a series of slow-motion black and white shots of CMHC staff standing in front of a white backdrop smiling at the camera. Some staff members hold picture frames. In the frames are images of housing projects CMHC has funded. As the images progess, the music increases slowly in tempo and energy.)
00:32
(Text on tangerine coloured screen: At CMHC…)
00:34
(Visual: A slow-motion black and white shot of a CMHC staff member standing in front of a white backdrop, smiling, and crossing his arms.)
00:36
(Text on teal coloured screen: We're working together…)
00:37
(Visual: A slomotion black and white shot of a group of CMHC staff members standing in front of a white backdrop. They smile as they have a group hug.)
00:39
(Text on brick coloured screen: To make housing affordable…)
00:41
(Visual: A slow-motion black and white shot of two CMHC staff members standing in front of a white backdrop, smiling, and doing a friendly fist bump.)
00:43
(Text on sea blue coloured screen: For everyone in Canada.)
00:45
(Visual: The video transitions between a series of slow-motion black and white shots of CMHC staff standing in front of a white backdrop smiling and laughing. The images cut quickly to the beat of the music that has increased in tempo. The images transition to text on screen as the as the music reaches its credcendo.)
00:49
(Text on screen: This is our goal: By 2030, everyone in Canada has a home that they can afford and that meets their needs.)
01:00
(Visual: Text fades out. The Government of Canada and CMHC logos fade in together after. All text and graphics fades to white.)
(Music fades out)
What does CMHC do?
CMHC exists for a single reason: to make housing affordable for everyone in Canada. We know that housing helps people stay employed, do better in school and participate more fully in society. Housing affordability and a stable housing finance system support a stronger, safer Canada where everyone can live with dignity.
Affordable housing for all is an ambitious goal, and we can't do it alone. We're mobilizing the expertise and energy of governments, non-profits, lenders, developers, social entrepreneurs and co-ops to create the future of housing. Canada's first-ever National Housing Strategy is just one example. Together, we're removing barriers to ensure that no one is left behind.
Our Aspiration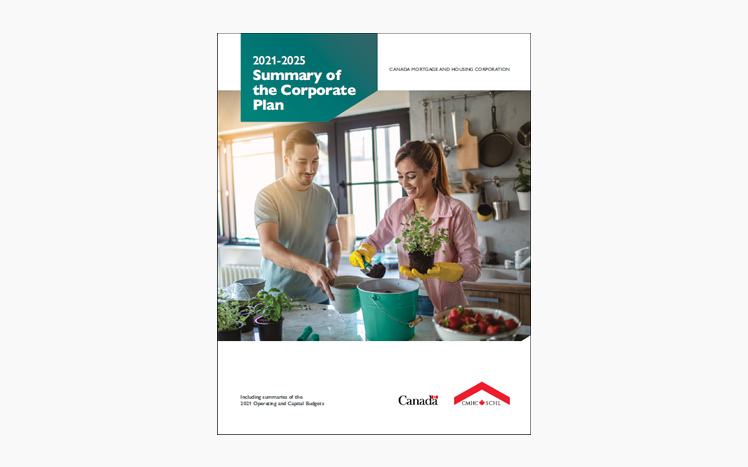 Read our 2021 – 2025 Summary of the Corporate Plan
Learn more about our plan to ensure that by 2030, everyone in Canada has a home that they can afford and that meets their needs.
Was this page relevant to your needs?
Date Published: May 31, 2018