Our Summary of the Corporate Plan presents our priorities, initiatives, key performance measures and financial plan for the next 5 years.
We are accountable to Parliament through the Minister for CMHC, currently the Minister of Families, Children and Social Development. We report on progress against our plan though our quarterly financial reports and our annual reports.
2020 – 2024 Summary of the Corporate Plan
In this 2020 – 2024 Corporate Plan, CMHC charts a path towards meeting the ambitious goals of the National Housing Strategy and beyond. Notably, we are creating much-needed housing supply by building more affordable units, and repairing and revitalizing existing units. At the same time, we are focusing on improving our understanding of Canadians' housing needs, especially as experienced by vulnerable populations, so that we can develop better, more targeted responses.
Our bold aspiration is that "By 2030, everyone in Canada has a home that they can afford and that meets their needs." Housing affordability is the reason CMHC exists. It is a critical thread in a strong social fabric and integral to Canada's economic stability and wellbeing.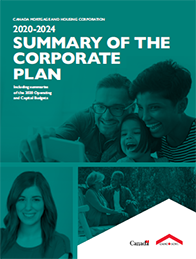 Read our Plan and learn more about our Strategy and its four strategic objectives:
Experiment with new ideas
Understand Canadians' needs
Build a housing data exchange
Modernize our company
Previous Summaries