Reducing Core Housing Need by 50%: Métis Nation British Columbia
PDF - Report
Big River Analytics partnered with Métis Nation British Columbia to study Métis housing needs in British Columbia.
The research revealed that 12% of Métis households in BC live in core housing need, meaning their homes are unaffordable, inadequate or unsuitable. Métis Nation British Columbia aims to reduce this core housing need by 50% over 5 years.
The project has 2 phases:
Phase I developed a survey and conducted a baseline housing needs assessment.
Phase II analyzed the data and proposed solutions.
The research identified factors that contribute to Métis households experiencing core housing need and how these factors affect their housing situation. It also calculated the budget needed to achieve the 50% reduction goal. The findings from this research provide valuable insights for the Province of British Columbia in addressing Métis housing needs.
Author:

CMHC

Document Type:

PDF

Date Published:

September 29, 2023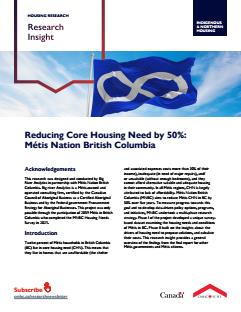 Was this page relevant to your needs?