Today, the Honourable Ahmed Hussen, Minister of Housing and Diversity and Inclusion, the Honourable Dan Vandal, Minister responsible for Prairies Economic Development Canada and Member of Parliament for Saint Boniface – Saint Vital, and Tammy Christensen, Executive Director, Ma Mawi Wi Chi Itata Centre, announced a combined $7.3 million in funding for 22 new, supportive tiny homes for people experiencing homelessness in Winnipeg. Construction of Astum Api Niikinaahk is complete and relatives, or residents, have moved into their new homes.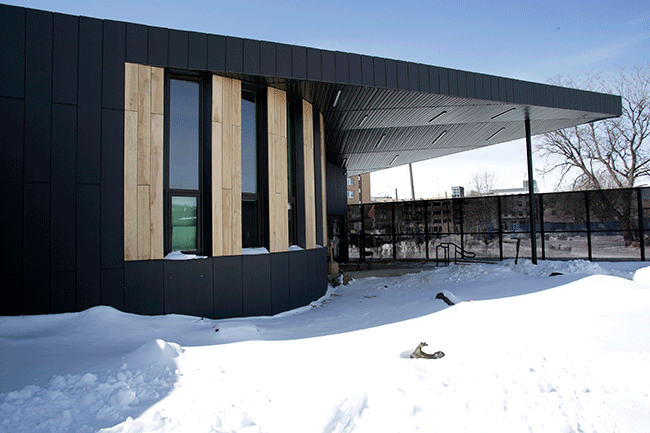 Astum Api Niikinaahk, a supportive tiny home project for people experiencing homelessness in Winnipeg.
On April 7, Minister Hussen visited Astum Api Niikinaahk to meet relatives, tour the property, and see firsthand some of the spaces for on-site services.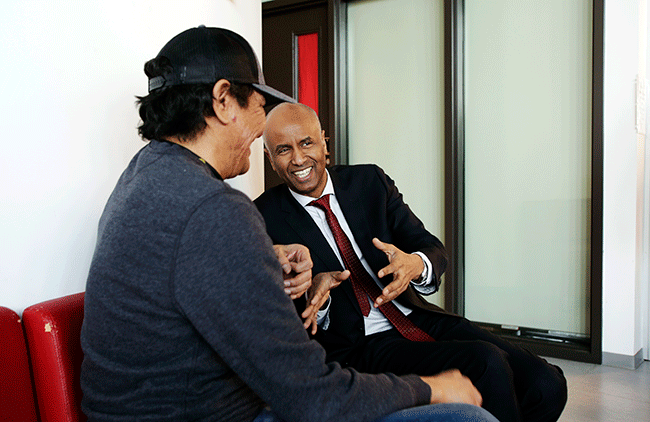 Minister Hussen speaks with a relative at Astum Api Niikinaahk about his experience in his new home.
Astum Api Niikinaahk, which means "come sit at our home" in Cree and Michif, uses a communal housing model grounded in Indigenous values and informed by the clan system. The project was directly designed by people with lived experience of unsheltered homelessness and uses a collaborative approach informed by an Elders Circle.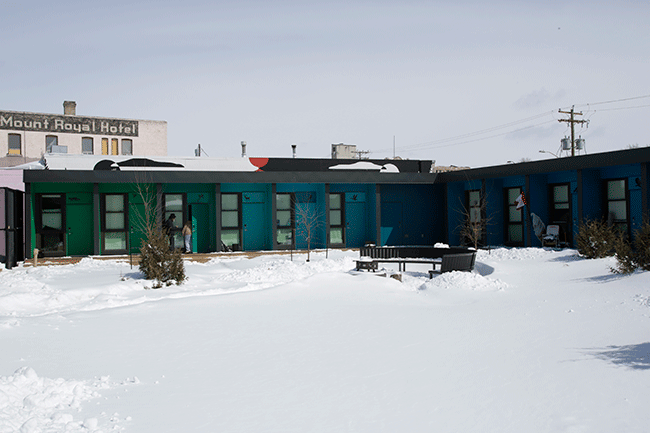 Some of the homes at Astum Api Niikinaahk. Each home is named after a sacred animal.
The home is located on the Thunderbird House site and features 22 units consisting of 18 bachelor-style units and four fully accessible units. On-site support services include a cultural mentor, nurse practitioners, and other cultural healing supports. Astum Api Niikinaahk provides several amenities for relatives, including a shared kitchen and dining area and laundry facility.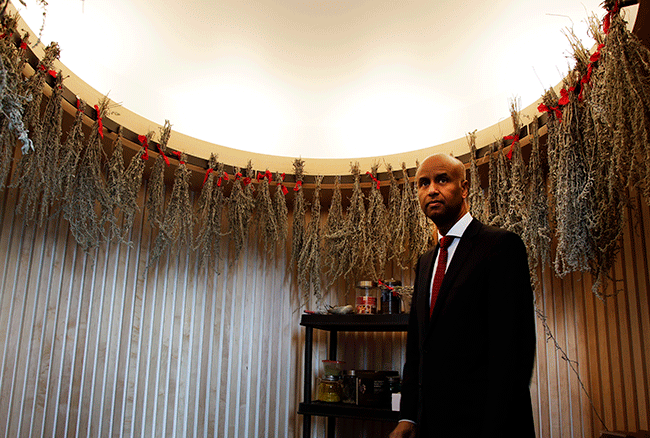 Minister Hussen in the medicine room, a space for relatives to meet with the on-site cultural mentor and to practice healing.
Astum Api Niikinaahk is owned and operated by Ma Mawi Wi Chi Itata Centre with support of community partners including Aboriginal Council of Winnipeg, Aboriginal Health & Wellness Centre, Assembly of Manitoba Chiefs' Eagle Urban Transition Centre, Circle of Life Thunderbird House, End Homelessness Winnipeg, and Ka Ni Kanichihk.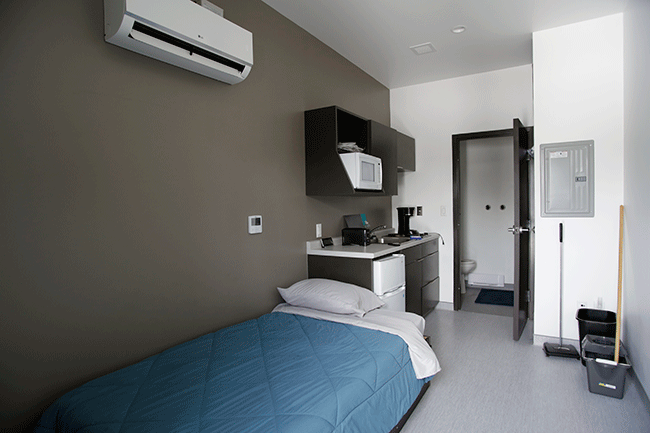 A view of one of the units at Astum Api Niikinaahk. Each unit has a double hot plate, fridge, microwave and bathroom.
Funding provided by the federal government as follows:
$4.35 million the National Housing Strategy's National Housing Co-Investment Fund
$2.95 million through Reaching Home: Canada's Homelessness Strategy. This includes funding managed by End Homelessness Winnipeg, which is the Community Entity for Winnipeg
Quotes:
"Everyone deserves a safe and affordable place to call home. That is why we are creating much-needed supportive housing for people experiencing, or at risk of experiencing homelessness in Winnipeg. Astum Api Niikinaahk is a testament to the effectiveness of our partnerships to deliver appropriate and successful housing solutions to Canadians in need. This is our government's National Housing Strategy at work."
"This project is another concrete example of our government's work in ensuring those experiencing homelessness are able to live in a safe and stable environment. Through this project, those that need it most have access to housing and resources so that they can improve their quality of life and life with dignity. By investing in supportive and culturally relevant housing, we can create stronger, healthier, and more resilient communities for generations to come."
"They talked. We listened. This is a culmination of extensive community consultation with our unsheltered relatives living in encampments in the heart of Winnipeg. Our housing model invites our homeless relatives to 'come home', not only physically, but spiritually, emotionally, and mentally. We are incredibly grateful to our funding partners for making Astum Api Niikinaahk a reality."
"End Homelessness Winnipeg is proud to be a community partner for this important and highly impactful Indigenous resource in our community. Astum Api Niikinaahk not only provides resources for residents but was the result of an incredibly innovative design process that was led by Indigenous peoples and individuals with lived experience of unsheltered homelessness. The engagement and outcomes of this project is a model that should be looked at by communities across the country."
Quick facts:
The National Housing Co-Investment Fund (NHCF) is a $13.2 billion program under the National Housing Strategy (NHS) that gives priority to projects that help people who need it most, including women and children fleeing family violence, seniors, Indigenous peoples, people with disabilities, those with mental health or addiction issues, veterans, and young adults.

Budget 2022 advanced $2.9 billion in funding under the NHCF to accelerate the creation of up to 4,300 new units and the repair of up to 17,800 units.

Canada's National Housing Strategy (NHS) is a 10-year, $82-plus billion plan that will give more Canadians a place to call home.

NHS is built on strong partnerships between the federal, provincial, and territorial governments, and continuous engagement with others, including municipalities, Indigenous governments and organizations, and the social and private housing sectors. This includes consultations with Canadians from all walks of life, and people with lived experience of housing need.
All NHS investments delivered by the federal, provincial, and territorial governments will respect the key principles of NHS that support partnerships, people, and communities.
Additional information:
As Canada's authority on housing, CMHC contributes to the stability of the housing market and financial system, provides support for Canadians in housing need, and offers unbiased housing research and advice to all levels of Canadian government, consumers and the housing industry. CMHC's aim is that by 2030, everyone in Canada has a home they can afford and that meets their needs. For more information, follow us on Twitter, Instagram, YouTube, LinkedIn and Facebook.
Launched in April 2019, Reaching Home: Canada's Homelessness Strategy is a community-based program aimed at preventing and reducing homelessness across Canada. This program provides direct support and funding to Designated Communities (urban centres), Indigenous communities, territorial communities and rural and remote communities across Canada to help them address their local homelessness needs. The Strategy also supports the goals of the National Housing Strategy, in particular, to support the most vulnerable Canadians in maintaining safe, stable and affordable housing and to reduce chronic homelessness nationally by 50 percent by fiscal year 2027 to 2028. The Government of Canada has invested nearly $4 billion over nine years to address homelessness through Reaching Home. This includes funding invested through the COVID-19 Economic Response Plan, the 2020 Fall Economic Statement; Budget 2021 and Budget 2022. To learn more about Reaching Home, visit the Infrastructure Canada — About Reaching Home: Canada's Homelessness Strategy web page.
To find out more about the National Housing Strategy, please visit www.placetocallhome.ca.
For information on this release:
Mahreen Dasoo
Office of the Minister of Housing and Diversity and Inclusion
mahreen.dasoo@infc.gc.ca
Media Relations
anada Mortgage and Housing Corporation
media@cmhc-schl.gc.ca