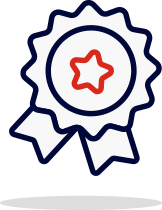 Our Housing Research Awards are open for 2023!
The awards are an annual competition open to researchers, students and individuals. We accept applications from a diversity of disciplines including humanities, health, technology — and more. If your research is related to housing in Canada, you may be eligible for funding to share your story.
Apply for 1 of 3 awards with increased funding amounts
CMHC President's Medal for Outstanding Housing Research ($25,000)
Gold Roof Award for Housing Research Excellence ($12,500)
Gold Roof Award for Knowledge to Action ($12,500)
Spotlight on housing supply
This year's President's Medal for Outstanding Housing Research award will focus on the theme "challenges and solutions to housing supply gaps."
Over the past 20 years housing supply in Canada hasn't kept up with demand. Our President's Medal theme aims to shed light on these complex and far-reaching challenges through research. We want to showcase innovative solutions that will help improve the creation and preservation of housing supply.
We'll review applications with these questions in mind:
Does the research address and add to our understanding of the causes, challenges and solutions surrounding housing supply gaps in Canada?
Does the research provide new strategies to address any of the various issues and trends affecting housing supply?
More opportunities to share your story
The Gold Roof Award for Housing Excellence recognizes outstanding research on affordable housing in Canada. We're looking for a significant research contribution that improves our knowledge or understanding in one of the National Housing Strategy's priority areas.
The Gold Roof Award for Knowledge to Action recognizes initiatives that close the gap between what we know and what we do. We're acknowledging initiatives that lead to demonstratable impacts in the academic community or housing sector.
The Housing Research Awards are a funding initiative under the National Housing Strategy.
Be a part of recognizing the best in Canadian housing research. Apply by Friday, August 25, 2023, 4:00 p.m. (EST).