Our Summary of the Corporate Plan presents our priorities, initiatives, key performance measures and financial plan for the next 5 years.
We are accountable to Parliament through the Minister for CMHC, currently the Minister of Families, Children and Social Development. We report on progress against our plan though our quarterly financial reports and our annual reports.
2021 – 2025 Summary of the Corporate Plan
In this 2021 – 2025 Summary of the Corporate Plan, CMHC provides a clear roadmap for our housing affordability strategy. It highlights how we will create more secure, affordable housing for those who are vulnerable. It shows how we will boost housing supply and options to meet the diverse needs of Canadians, while ensuring the stability and sustainability of our housing system. Further, it outlines the bold actions we are taking to address the issues that matter most to Canadians, such as climate change, reconciliation with Indigenous peoples, and anti-racism and equity.
Our bold aspiration is that "by 2030, everyone in Canada has a home that they can afford and that meets their needs."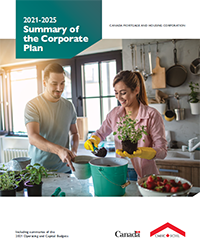 Read our Plan and learn more about our Strategy
Housing affordability is the reason CMHC exists. It is a critical thread in a strong social fabric and integral to Canada's economic stability and wellbeing.
Previous Summaries