CMHC Procurement Policy
PDF - Report
This policy governs the procurement of goods and services by or for CMHC.
Notice to Service Providers
On June 14, 2022, the Government of Canada announced that as of June 20, 2022, it will suspend vaccination requirements for federal government employees. This decision follows a review of the current public health situation, including the evolution of the virus and vaccination rates in Canada.
As a result, and consistent with the Government of Canada decision, CMHC will be suspending, effective June 20, 2022, the vaccination requirements that were introduced on November 15, 2021.
Effective June 20, 2022:
Vendors that are entering in a contract with CMHC will no longer be required to be vaccinated as a condition of procurement.
Vendors that have an effective contract with CMHC will no longer require to show proof of vaccination to access a CMHC worksite.
This announcement does not affect CMHC's workplace reintegration plan and its associated health and safety measures (including mask requirements. These measures also apply to vendors accessing our worksites in person.
CMHC's vaccination requirement was developed in response to public health guidance and direction, and in alignment with the Government of Canada vaccination requirements. CMHC will continue to monitor the public health situation, and may make adjustments and adopt or reintroduce measures in response to the latest public health advice and science.
Author:

CMHC

Document Type:

PDF

Date Published:

June 22, 2022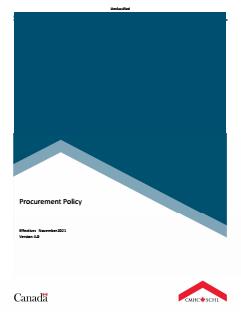 Was this page relevant to your needs?