Renovating for Accessibility – Other Building Features
PDF - Report
There are many building features that need to be considered when renovating a low-rise, multi-family-housing project for people with disabilities. You should consider the needs of people with different disabilities. This includes individuals:
with mobility limitations
who are blind or with low vision
who are deaf or hard of hearing
who have cognitive limitations
This fact sheet highlights the following features:
doors
windows
bedrooms
interior finishing
equipment and controls
laundry
garbage
fire protection
public washrooms
If you are planning renovations, think carefully about how the rooms will work.
Author:

CMHC

Document Type:

PDF

Date Published:

May 31, 2021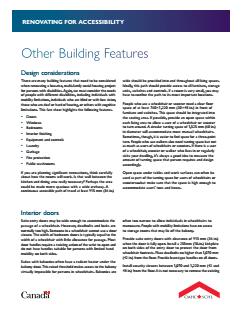 Was this page relevant to your needs?