Renovating for Accessibility – Kitchens
PDF - Report
A universally designed kitchen is comfortable and safe for all family members; however, it is the most difficult space to make universal. It's important to plan for efficiency of effort and ease of use.
The key to effective kitchen design for all users is a layout that provides the right balance between countertop area, maneuvering space and storage space. Other considerations include:
Cupboards, drawers and pantries
Sink and cleanup areas
Switches and controls
Adaptability
Author:

CMHC

Document Type:

PDF

Date Published:

May 31, 2021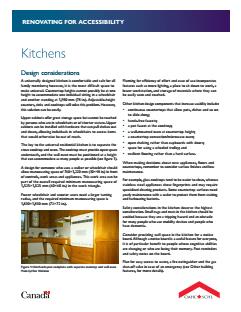 Was this page relevant to your needs?