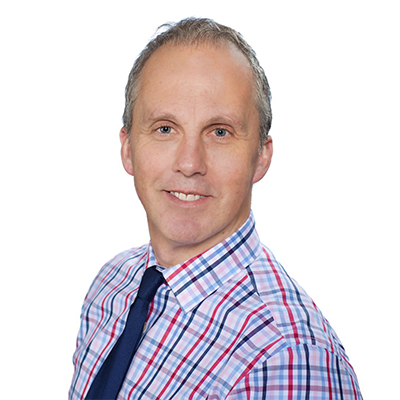 As Vice-President of Innovation, Steffan (Steff) Jones leads a team that has ambitions to shake up Canada's housing system to make housing more affordable for all.
In 2018, Steff was instrumental in helping CMHC set a new strategy and course for the future, anchored by an ambitious goal – that by 2030, everyone in Canada has a home they can afford and that meets their needs. Encouraging innovation is a key part of this strategy.
"CMHC has strong policies, programs and tools to put behind its 2030 goal. But these will only get us so far. We also need to experiment, explore new ways of working, and disrupt the status quo. That's why we're forging partnerships with new players, unearthing unique solutions and exploring cutting-edge technology."
Steff has a deep knowledge of CMHC and its role in addressing Canada's housing issues. Over his 20-plus-year career at the company, he has worked in mortgage loan insurance, social housing, human resources and corporate strategy and planning. He is also known for his willingness to experiment and his human-centered approach to problem solving, ensuring that solutions and outcomes balance business, industry and community.
"In the past at CMHC, we've had a tendency to get hung up in policy or process – or simply the fear of trying something new. I'm working to flip that narrative. We've built up our ability and desire to innovate and the mindset at CMHC has changed significantly in recent years. We're ready to try new things and seize opportunities – like tapping into the enormous capacity the private sector offers to facilitate greater housing affordability – that we might not have before.
Steff has a MA in Industrial/Organizational Psychology from Carleton University, a BSc. in Psychology from Trent University, and a certification in Prosci Change Management. He lives in Ottawa with his partner and two kids, where he makes fitness a way of life, is an avid golfer, and plays drums in a band with CMHC colleagues aptly called Gimme Shelter.
Expertise
Organizational Psychology; Innovation; Change Management, Organizational Excellence, Corporate Strategy and Planning; Intersection of Housing and Technology (Proptech/Fintech)