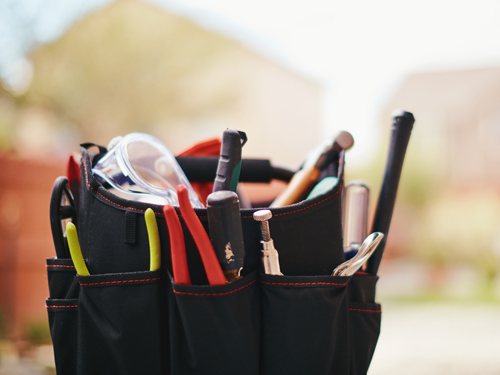 Summer brings to mind barbeques, parties, sun and fun. It's also the perfect time to tackle all kinds of maintenance jobs around your home. Before you kick back and enjoy the season, here are 5 quick and easy tips summer maintenance tips to keep your house in tip top shape.
1. Make repairs and fixes to anything in and around the house
Prevent accidents and keep your property safe this summer. Inspect your yard and fix anything that may not be safe or could cause accidents. This includes:
resetting pavers to prevent tripping
staining or repainting your deck
repairing cracks in your driveway
fixing any steps or supporting structures
2. Look at the condition of your roof
Inspect the condition of your roof. Using binoculars enables you to stay on the ground for this inspection. Look for:
sagging that could indicate structural problems requiring further investigation from inside the attic
any shingles that need repair or replacement
signs of cracking, leakage, split or damaged sealants around the roof flashings, chimney and roof joints
damage on the chimney cap and the caulking between the cap and the chimney.
Hire a professional home inspector or roofing contractor if you find anything of concern.
3. Inspect weather-stripping, caulking and vents
Examine the condition of weather-stripping and caulking around windows and doors. Be sure to check your outside vents at the same time. This inspection should include:
cleaning and dusting the debris off the tracks of sliding doors and windows
ensuring the hardware and other operating parts between the opening unit and the outside frame are operating properly
checking the flappers and protective mesh on exhaust vents aren't blocked
removing lint build up from your dryer vent
4. Clean your central air conditioner
Professionally clean the outdoor unit of your central air conditioner at the start of the season. The servicing should include:
checking and/or adjusting the refrigerant levels, compressor, fan-motor and controls
vacuuming the heat exchange grilles to remove debris
cleaning or replacing your furnace filter
5. Look for signs of humidity
Check your basement pipes for condensation or dripping. We recommend monitoring your basement for humidity and avoid relative humidity levels above 60%. Use a dehumidifier to maintain lower relative humidity levels if the moisture levels are too high. Running your air conditioner can also help.
Once you've got your routine down, regular home maintenance will be a breeze. One last bonus tip, don't forget to change the batteries in your fire alarms.