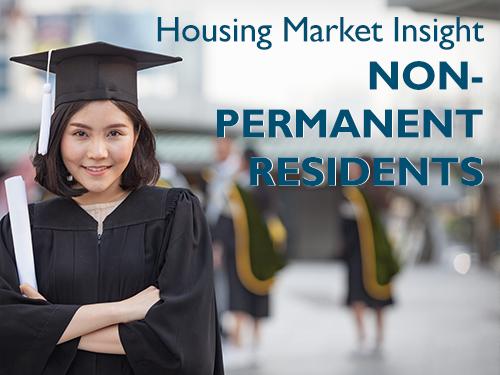 International migration is the strongest driver of population growth in Canada. In addition, it has an important influence on housing demand. What's less clear is the specific influence of non-permanent residents, who make up an important sub-category of international migrants. The number of non-permanent residents in Canada has grown quickly. However, we still don't fully understand their effect on the profile of Canada's population and on housing demand.
CMHC has published a Housing Market Insight that seeks to shed light on these questions. But first, let's take a look at what we mean by "non-permanent residents."
Who are non-permanent residents?
Briefly, non-permanent residents are foreign nationals who are lawfully in Canada on a temporary basis. They include workers, international students, inland refugee claimants and people who have been granted work visas on humanitarian and compassionate grounds.
But what makes non-permanent residents interesting in the context of housing? Well, their demographic characteristics, for one thing. Because of the way their population has grown, non-permanent residents have had a greater effect on housing over time. Also, non-permanent residents tend to form households at higher rates. These things together make their effect on housing greater than their overall population numbers would suggest.
Some interesting facts highlighted in the report:
Many of them occupy rental accommodation while in Canada, however evidence from the five largest Canadian chartered banks show many purchase homes as well. The data suggest mortgages to NPR amounted to between 1.9% of mortgages in Montreal to 3.9% in Vancouver in 2016.
The obtained data from the banks also included the share of mortgages held by non-resident owners (either foreign nationals or non-resident Canadians).The share represented by these mortgages was smaller than NPR at 1.1% in Toronto and 2.6% in Vancouver.
From 2003 to 2015, the number of non-permanent residents in Canada grew by 93.0%. The overall population of Canada, meanwhile, only grew by 13.3%.
Non-permanent residents accounted for a significant proportion of population growth in urban centres between 2004 and 2015. During that period, the increase in their number represented 20% of total population growth in Vancouver.
In 2015, 84.3% of non-permanent residents were in the 18-44 age group. This is important because the majority of new households formed in Canada come from this age group.
The data shows that non-permanent residents have been strong contributors to population growth, especially in urban Canada. As a result, they have had a significant effect on housing demand.