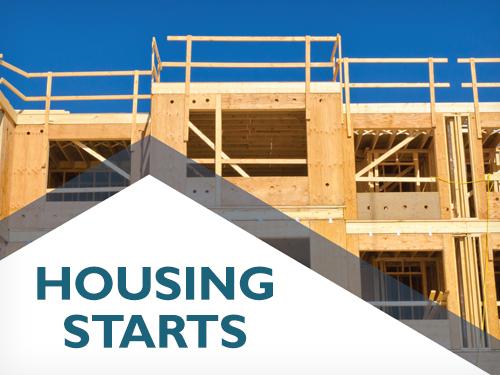 The national trend in housing starts stood at a 19-month low in September, following declines in four of the last five months. The slowdown in the pace of new residential construction activity in recent months is a result of both lower single-detached and multi-starts activity and brings new residential construction closer to its long run average from the elevated levels registered in 2017.
The trend in housing starts was 207,768 units in September 2018, compared to 213,966 units in August 2018, according to Canada Mortgage and Housing Corporation (CMHC). This trend measure is a six-month moving average of the monthly seasonally adjusted annual rates (SAAR) of housing starts.
Monthly Highlights
Vancouver
Housing starts in the Vancouver Census Metropolitan Area (CMA) trended lower in September 2018 as fewer projects in both the single-detached and multi-family sectors got underway. Construction activity for the month was concentrated in Surrey, which accounted for one quarter of all starts. Demand for housing from residents remains strong and has resulted in the pace of new home construction in the Vancouver CMA so far in 2018 equaling the level recorded during the first nine months of 2017.
Kelowna
The trend measure for housing starts in the Kelowna CMA moderated in the month of September as a result of a pullback in new construction activity in both the single-detached and multi-unit segments. In the first nine months of 2018, while new construction activity has declined relative to the record pace of housing starts seen in the same period of 2017, it remains significantly above the 10-year average.
Saskatoon
The trend measure of total housing starts increased in September after both single-detached and multi-family starts trended higher. However, overall new home construction in the Saskatoon CMA declined by 17% through September from a year ago reflecting lower single-detached starts.
Winnipeg
Total housing starts in Winnipeg continued to trend higher in September. A number of new condominium projects were started this month. After nine months, multi-family starts are 3% above the level of last year at this time. However, total housing starts remain 5% below last year's production as rising inventories of single-detached units have slowed activity in this segment of the market.
Toronto
Total housing starts trended higher in September, as the decline in the single-detached starts trend was more than offset by rising multi-unit starts. Multi-unit starts were strong across unit types, led by semi-detached units saw the most starts for the month of September since 2004. The relative affordability of these higher-density units continues to fuel their demand.
St. Catharines-Niagara
For the first time in four months, St. Catharines-Niagara CMA housing starts trended higher, mainly due to the apartment sector. New single-detached construction continued to slow, reaching the lowest monthly level in seven years. A more balanced resale market and higher mortgage borrowing costs have dampened housing demand particularly for relatively expensive single-detached homes.
Brantford
In Brantford, single-detached starts slowed for the first month since January. As a result the pace of overall starts in September also slowed considerably, since most new homes in Brantford are single-detached. Single-detached starts have already far surpassed their annual totals from each of the previous ten years.
Province of Québec
In Québec, the trend of housing starts decreased in the third quarter. However, the year-to-date total is slightly higher than that of the first nine months of 2017, due to the strength of Montréal CMA rental apartment starts.
Halifax
Total housing starts in Halifax trended higher in September, impacted by continued strength in apartment construction. Improving employment levels and strong population gains are supporting a growing rental market demand with multiples starts expanding by 21% this month, year-over-year. After remaining flat for the past two months, single-detached starts also picked up pace in September, increasing by 11% compared to last year.
Was this page relevant to your needs?
Date Published: October 9, 2018