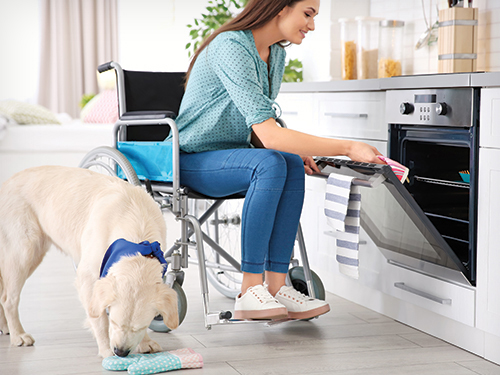 The kitchen is one of the most important rooms in a home. However, over time, our needs and abilities change. For this reason, we need flexible, accessible kitchen designs that will work for us now and in the future. You may not be the only one thinking about this. In fact, accessibility, facilitated using the principles of universal design, is an important part of Canada's new National Housing Strategy.
In an accessible kitchen, users require minimal effort to do common tasks. It is easier to prepare food and clean up after, and to use the light and power switches. There is also an increase in overall safety. What's more, as your needs change, it's easier to add other further features that can be adapted to your needs.
There are many aspects to consider. Should the layout be U-shaped, L-shaped, or galley-style? How do adjustable countertops help? What is the best design for the cupboards, drawers and pantries? How can you best adapt the lighting and noise levels to your needs? And which floor finishing will help you get around with ease?
Ideally, the design options offered will reflect the following universal design principles, which are applicable to all users:
Equitable use — Design options offer access in an integrated and dignified manner. Design is appealing and provides an equal level of safety to all users.
Flexibility in use — Design has been developed considering users' preferences and abilities throughout their life cycle.
Simple and intuitive — Features are easy to understand, regardless of experience or cognitive ability.
Perceptible information — Users can use sight, hearing and touch for safe and effective use.
Tolerance for error — Design has fail-safe features that minimize the potential for unintended results.
Low physical effort — Strength, stamina and dexterity required to access spaces or use controls and products is limited.
Size and space for approach and use — Design offers easy access to space, equipment and controls.